Hockey Equipment Relief Program
---
---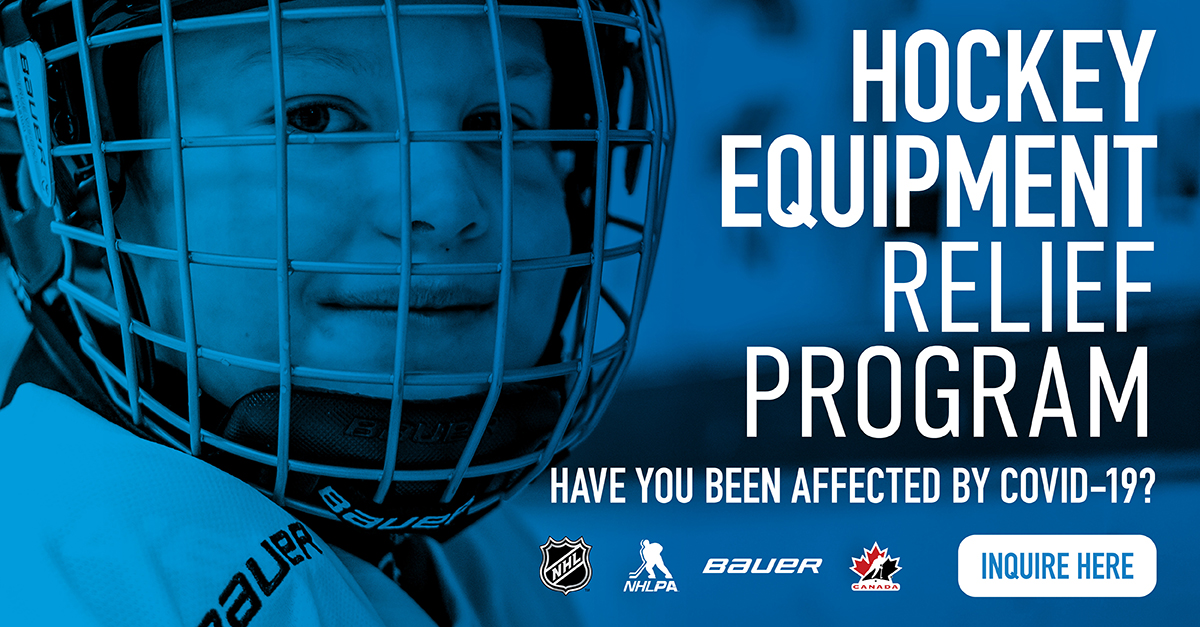 ---
On July 30, 2020, the National Hockey League, NHLPA, Bauer Hockey and Hockey Canada, launched the Hockey Equipment Relief Program to help families financially impacted by COVID-19 get their kids back on the ice.

The Flamborough Girls Hockey Association is proud to share that we have been accepted as a Donation Partner through this program. We are expecting to receive equipment soon and will share details of distribution as quickly as we can.
The Hockey Equipment Relief Program is an equipment donation initiative which includes $2 million of hockey gear, with upwards of 7,000 sets to be distributed to families and communities in the seven Canadian NHL cities (Vancouver, Calgary, Edmonton, Winnipeg, Toronto, Ottawa and Montreal) and other regions across Canada. In the distribution of this equipment, particular attention will be provided to support minority communities.

Donation Partners:
Donation partners can come from:
o Seven Canadian NHL teams
o Hockey Canada Members and their local hockey associations
o Youth organizations - ex. YMCA, community centres
o Underserved minority groups - Indigenous, Black, LGBTQ, Female, etc.
Application Process:
Above Donation Partners can apply between Sept. 18-28, 2020
Applications will be reviewed by the program partners, including Hockey Canada and its Members.
Accepted applicants will be based on applications and equitable equipment distribution for a region of the country.
For more information, visit the Hockey Equipment Relief Program website.
Potential Questions:
Q: What equipment is being provided?
A: An equipment set consists of 4 entry-level pieces: skates, helmet, gloves and stick. They will be sent out in denominations of 25 based on the Donation Partner's application. Sizes will fit children between the ages of 4-12 years old and does not need to be given out as a complete set.
Q: What model of equipment is included?
A: Entry-level equipment in the Lil Sport and Prodigy families of Bauer equipment will be distributed.
Q: When will the equipment be shipped?
A: A delivery window can be selected between Oct. 12, 2020 and March 1, 2021. Donation Partners will work with Bauer to find a weeklong window in this date range that will work for delivery.
Q: How large is a shipment and how much storage does a Donation Partner need?
A: The size of the shipment will depend on the number of sets requested. For example, a shipment of 25 sets will be approximately 1 pallet (5'x5'x7'). The Donation Partner will need to be able to store any pallets delivered or be on site on delivery day to break down pallet to store equipment boxes accordingly.
Q: Does the equipment need to be distributed as a whole set or can pieces be distributed individually?
A: Equipment does not need to be given out as a whole set. A child can be given between one and four pieces of equipment from the set, depending on their needs. Duplicates of the same piece of equipment will not be allowed to be given to the same child (Example: two sticks).
Q: How long does a Donation Partner have to distribute the equipment?
A: There is no time limit to distribute the equipment, however, the goal would be to distribute before the end of the 2020-2021 season. Please describe your plans for distribution in your application.
Q: Is there a recommended Fitting Process?
A: Partners of the program understand each community will have its own unique circumstances. We recommend having a well-organized, timed and spaced out event that efficiently uses invaluable volunteer time to help fit participants. For further support, your program contact can help with best practices.
Q: Will there be a representative present to help fit the equipment?
A: Unfortunately, there will not be a representative from any of the program partners to help fit equipment.
Q: Does a Donation Partner have to record information about the participants?
A: A Donation Partner will have to record what pieces of equipment a child receives. A tracking template will be provided.
Q: Does a Donation Partner have to help in sharing photos and videos of the distribution?
A: Selected Donation Partners will be provided with a marketing toolkit with instructions on how to share photos through social media platforms using a hashtag that will be determined at a later date.
Q: What will Donation Partners receive when they are accepted?
A: Donation Partners will receive an acceptance letter from the program partners and provided contact information regarding next steps.